OVERVIEW
The ONV-IPS33128PF series is a full gigabit industrial PoE fiber switch independently developed by ONV. It has 10*10/100/1000Base-T RJ45 ports and 2*1000Base-X uplink SFP slot ports. Port 1-8 can support IEEE 802.3af/at PoE standard, single-port PoE power up to 30W. As a PoE power supply device, it can automatically detect and recognize the power receiving equipment that meets the standard and supply power through the network cable. It can supply power to PoE terminal device such as wireless AP, IP camera,industrial sensor through the network cable, and meet the network environment that needs high-density PoE power supply. It is suitable for intelligent transportation, rail transit, power industry, mining, petroleum, sea transportation. Industrial scenes such as metallurgy and green energy construction form a cost-effective, stable and reliable communication network.
Unmanaged mode, plug, and play, no configuration, easy to use.
Gigabit Ethernet port access,uplink gigabit dual SFP port
◇ Uplink gigabit dual SFP fiber ports, easy to achieve high bandwidth and long-distance transmission.
◇ Dual SFP fiber ports can cascade, chain, compatible with SFP module connection.
Port lightning protection, wide voltage input
◇ Contact discharge 8KV, air discharge 15KV; port lightning protection common-mode 4KV, differential mode 2KV;
◇ Industrial dual power input.
◇ DC INPUT: 48V-57V, non-PoE DC INPUT: 12-48V.
 Intelligent PoE power supply
◇ 8*10/100/1000Base-T RJ45 ports, meeting the needs of security monitoring, teleconferencing system, wireless coverage, and other scenarios.
◇ IEEE 802.3af/at PoE standard, without damaging non-PoE devices.
◇ Priority system for PoE port, it will supply power to the high priority level port first when the power budget is insufficient and avoid overwork of the device.
Stable and reliable
◇ Low power consumption, No fan low noise design, aluminum shell.
◇ CCC,CE, FCC, RoHS.
◇ The user-friendly panel, it can show the device status through the LED indicator of PWR,SYS, Link, L/A,PoE.
DIMENSION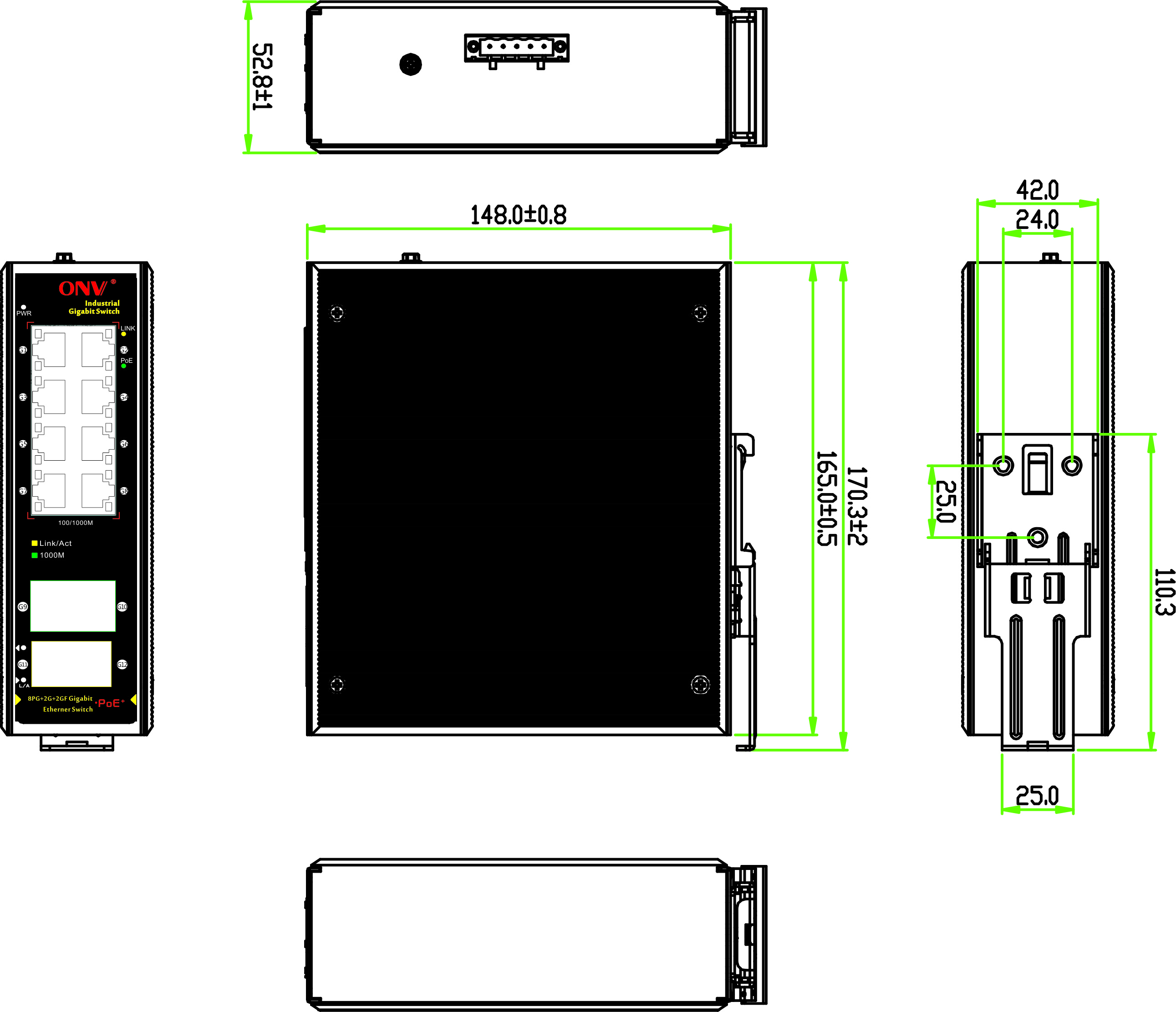 ORDERING INFORMATION
Model

Description

Recommended Power Supply

ONV-IPS33128PF

Unmanaged industrial PoE fiber switch with 10*10/100/1000M RJ45 ports and 2*1000M uplink SFP slot ports, Port 1-8 can support IEEE802.3af/at PoE. Support dual DC  power supply input and DIN rail mounting.

120W

ONV-IPS33128PF-at

240W

Note: Industrial PoE switch does not match the SFP optical module and power supply.
PACKING LIST
PACKING LIST

CONTENT

QTY

UNIT

12-port full gigabit industrial PoE fiber switch

1

SET

User Guide

1

PC

Warranty Card

1

PC